With fruit picking season kicking off farmers are going public with their stories of futile attempts to recruit locals to work in their fields and how they are having to look to their usual Eastern European recruiting grounds for workers.
Last week, following the story of a farm flying in a plane load of Romanians, I had a look to see what farm jobs were being advertised in Shropshire. As England's most rural county with around 60% farmland I figured that if the dearth of unfilled farm vacancies was going to be seen anywhere it would be here. Not one of these jobs was advertised on any of the mainstream job sites.
Yesterday there was a story in the Shropshire Star about a shortage of seasonal farm workers with one farmer saying he would have to "look elsewhere" for people to work on his farm. I asked a farmer on Twitter where the jobs were advertised and he replied with a link to a seasonal farm worker recruitment agency that specialises in recruiting from Romania and Bulgaria, the Pick For Britain website that suggests looking at the DWP Find a Job website and a different farm's website that is also looking for workers. The DWP Find a Job website has no fruit picking or farm jobs advertised for Shropshire.
This doesn't make sense if farmers want to recruit locals does it? People who don't usually do seasonal farm work aren't going to know about specialist agencies and they're unlikely to use an agency that specialises in bringing in Eastern Europeans even if they do. If you really wanted to recruit locals to work on your farm you'd advertise it with the Job Centre, on the DWP's Find a a Job service, with the main job search sites like Indeed or Total Jobs, with farming publications like Farmer's Weekly or the local newspaper. All of which have zero vacancies for this type of work.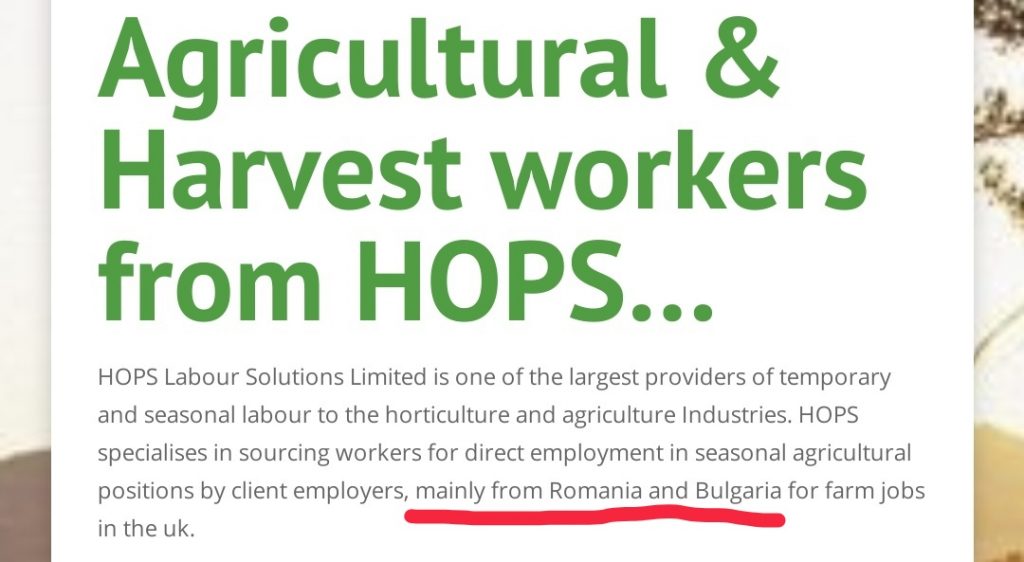 So what's going on?
Farmers have relied on cheap immigrant labour for a long time. They bring workers over from Eastern Europe who live on the farm in serviced accommodation often with meals provided. Weekly accommodation charges are capped by law at £52.85 including cleaning, meals and laundry and only the actual room rent is taxable, the services aren't. Much of the accommodation charge is tax-free income for the farm. The initial capital outlay from building or purchasing the accommodation in the first place can be used to offset against their tax bill whilst the maintenance and off-season losses can be used to offset against tax bills forever and a day. Transport costs can be deducted from wages including admin fees. It's a big money-spinner for farms employing immigrant seasonal workers and means they're effectively paying below minimum wage for back breaking work. No pensions to pay, no sick pay, no holiday pay and they can be dismissed with no rights.
Employing a local worker means no (largely tax-free) rental income and the farm has to pay minimum wage with few opportunities to make deductions from wages for services rendered or expenses incurred. Where's the incentive to employ locals when there are so many incentives not to?
The industry has a vested interest in "proving" that they can't fill vacancies with local workers this year. A pilot scheme is being run that allows a restricted number of immigrant workers to come to the UK to work on farms for up to 6 months. The effectiveness of the pilot will determine how much cheap labour they are allowed to import in future years. To get the number as high as possible they have to show that the 10,000 seasonal workers they're allowed to bring in this year (already increased from the original 2,500) isn't enough. Industry lobbyists are already pushing for the number to be increased to 70,000 and the season has barely started.
So, to ensure the pilot fails the vacancies are advertised on obscure websites and kept away from the mainstream job sites that most people would turn to, to look for work. The farms will argue that they advertised all their vacancies but not enough locals applied for them and there's nothing more they could have done and with only anecdotal evidence to the contrary the British government will almost certainly increase the numbers for future years.
Despite having record low unemployment there were still over a million unemployed in the UK before the Coronavirus lockdown and the economic damage it's already starting to wreak on the country. There is no shortage of available workers and the number of people who have applied for seasonal farm jobs despite the best efforts of the farms in question to dissuade them from doing so exposes the lie that people already living here aren't willing to do the work.
The only way to stop corrupt farmers from cheating the system is to only count jobs advertised on the DWP's Find a Job service or with the JobCentre when calculating the number of jobs advertised and not filled to set quotas. Immigration policy must not be based on dishonesty.